Social Contribution Activities
Since its founding in 1980, Nihon Chouzai has been dedicated to supplying healthcare services that meet the needs of patients based on its corporate philosophy of "achieving the true separation of drug prescribing and dispensing".
We use our expertise in the fields of pharmaceuticals and healthcare to play a part in creating a society in which people of all ages can enjoy healthy and fulfilling lives.
Donations to the Japan Cancer Society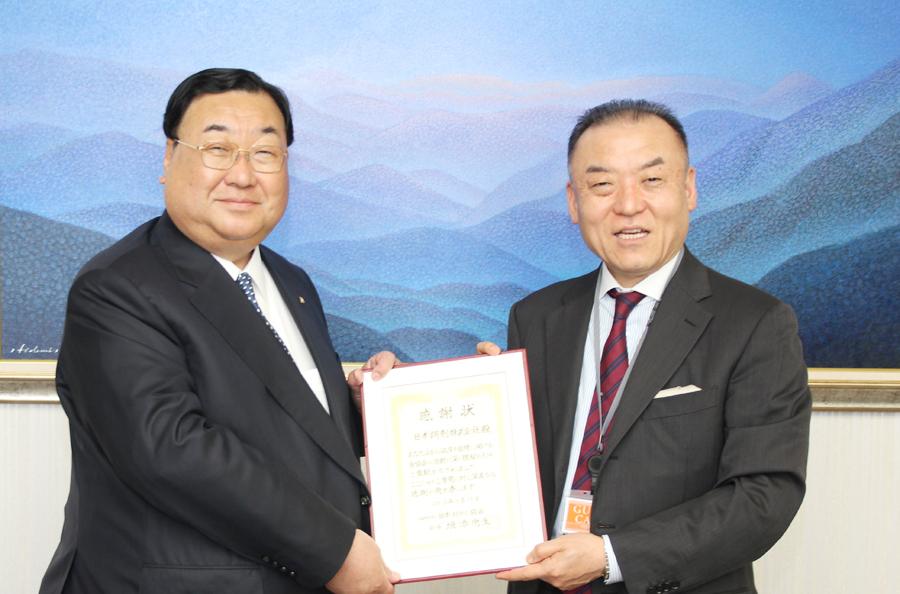 The primary activities of the Japan Cancer Society are educating people about cancer and extending assistance to cancer patients and their families. To support the goal of the Japan Cancer Society "overcoming cancer," which are very similar to the operations and goals of Nihon Chouzai as well, Nihon Chouzai made a donation to the society in March 2015.
Nihon Chouzai pharmacies regularly assist people battling cancer by helping them use drugs properly and providing support for treatments. Some pharmacies are located at hospitals specializing in treating cancer, including the National Cancer Center Central Hospital (the Tsukiji Pharmacy) and the National Cancer Center East Hospital (the Kashiwanoha Koen Pharmacy).
Assistance for Great East Japan Earthquake Victims at the Futaba Pharmacy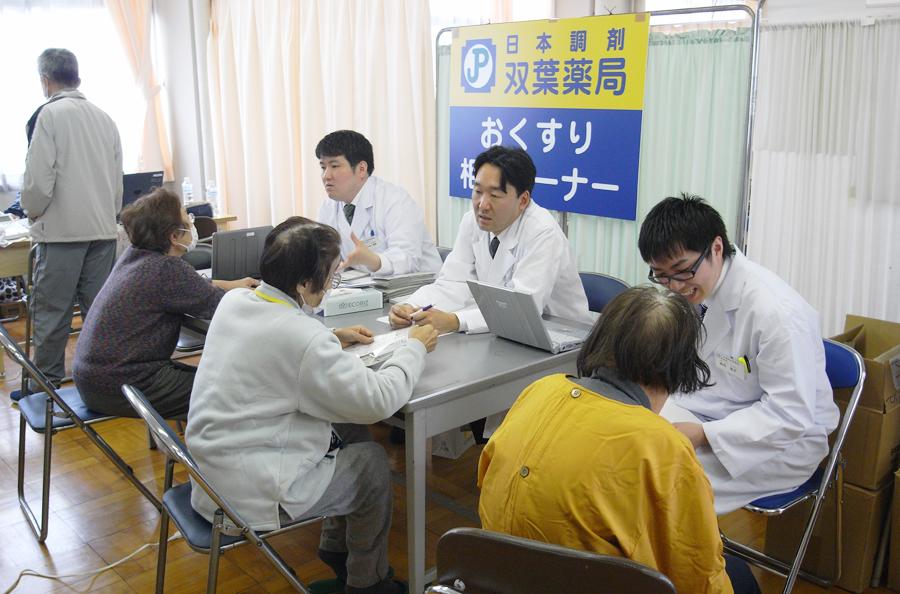 Following the Great East Japan Earthquake in March 2011, Nihon Chouzai assisted victims of this disaster by establishing a telephone consultation service to give information about the proper use of medications to people who were served by a pharmacy that had to close due to this disaster.
One month after the earthquake and tsunami, Nihon Chouzai opened a medication consultation desk to actively provide drug information at the temporary housing facility in Kazo city, Saitama prefecture for residents of Futaba-machi, which is in the evacuation zone of the Fukushima nuclear power plant accident. This desk served people who used the Nihon Chouzai Futaba Pharmacy, which had to close.
Nihon Chouzai used back-up data stored at its head office to serve the large number of customers who used Nihon Chouzai pharmacies in disaster-affected areas as well as to answer questions about these people from medical institutions at evacuation sites. Customers told us that they were worried because they didn't remember what drugs they were taking and that they appreciated receiving information about the drugs they were using before this disaster.
Programs for Children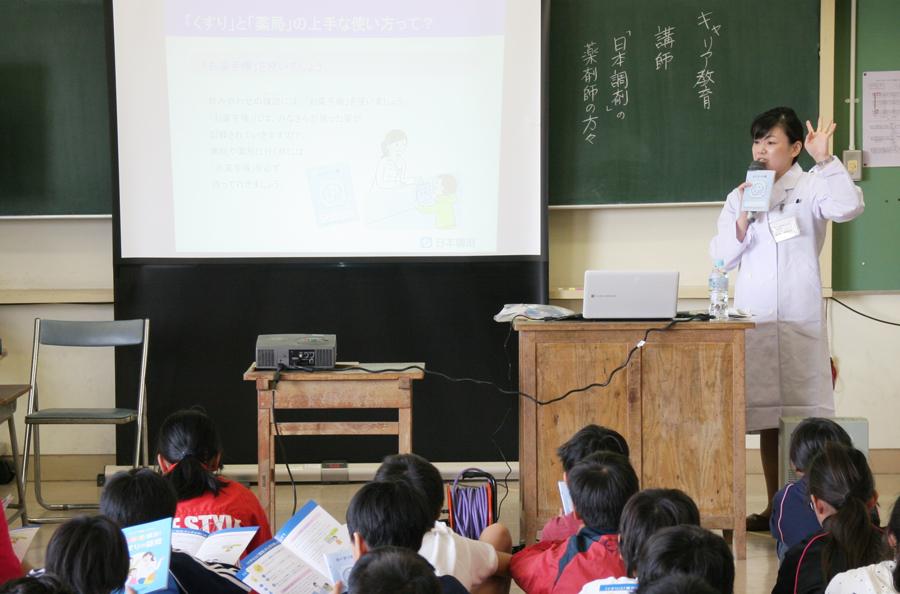 Elementary School Lessons about Medicine
Nihon Chouzai holds periodic classes about medicine at elementary schools that ask for these lessons. Pharmacists at Nihon Chouzai create the teaching materials and determine the information that is provided. Subjects include the importance of taking medicine properly and the tasks that pharmacists do every day. Soft drinks and soda candies are used for hands-on lessons that teach students about preparing prescriptions.
Workplace Visit for Junior High School Students
Nihon Chouzai often invites junior high school students to its pharmacies in order to see what a pharmacist does. Students wear white pharmacist coats, receive prescription orders, place non-prescription merchandise on shelves and perform other daily tasks. They can also have experience of drug dispensing and inspection. These visits show students the important roles of pharmacies and pharmacists.
Dementia Support Activities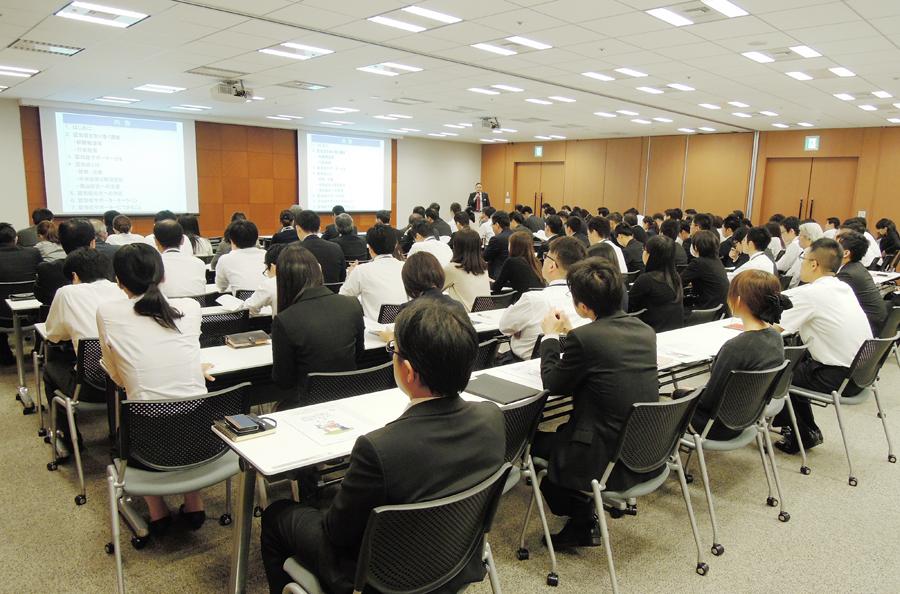 Nihon Chouzai has been holding seminars for its employees to train dementia support personnel since September 2014. Approximately 1,000 supervisory pharmacists and other personnel at the head office and branches nationwide have attended these seminars.
Dementia support is an important issue in Japan as the population ages dementia patients increase. As one way to be a responsible member of the community, Nihon Chouzai believes that training dementia supporters who have a proper understanding of dementia along with the skills to provide support to patients and their family members are necessary.
Giving knowledge about dementia to not only people at pharmacies who are in frequent contact with older people and individuals suffering from dementia but also those in administrative positions is another important goal of dementia support seminars in order to fulfill the group's roles in regional healthcare services.
Aid for Victims of July 2018 Rain and Flooding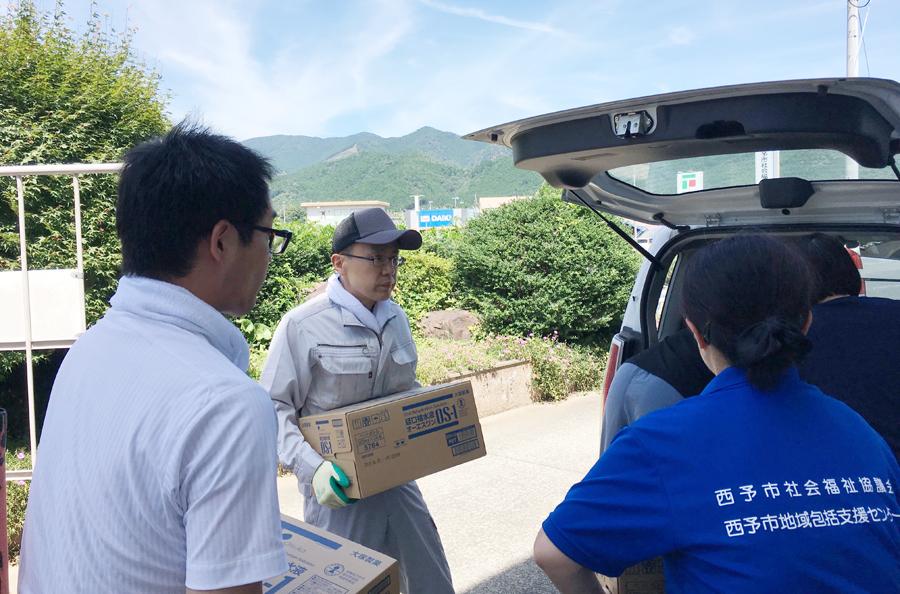 Heavy rain in western Japan in late June and early July 2018 caused severe damage. Nihon Chouzai provided assistance to several communities affected by this disaster.
Communities receiving aid: Mabicho, Kurashiki, Okayama and the cities of Ozu and Seiyo in Ehime
Aid: 884 cases (21,216 bottles) of rehydration beverages for the prevention of heat stroke
The beverages were distributed on July 13, 14 and 17, 2018.
Support for International Pharmaceutical Student Symposiums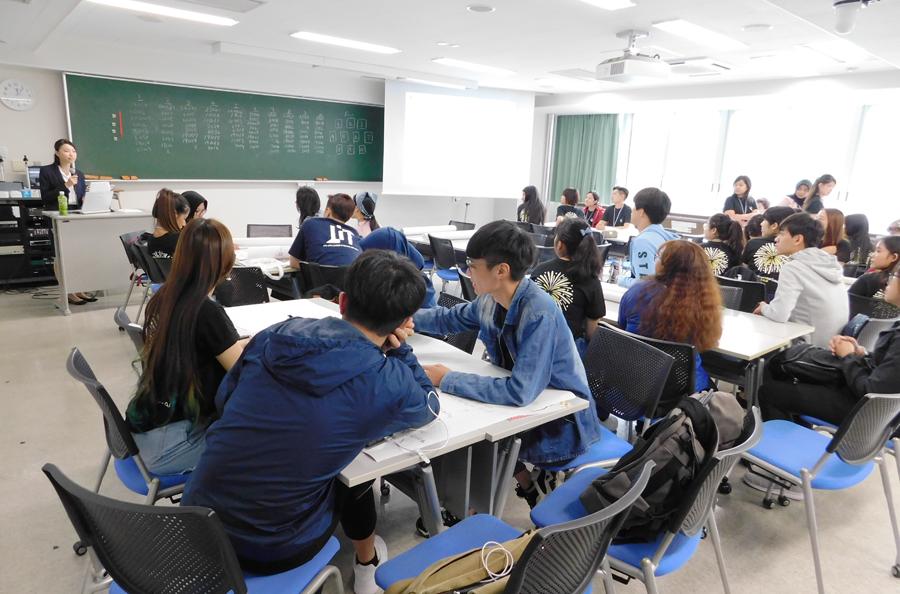 The 17th Asia-Pacific Pharmaceutical Student Symposium was held in August 2018 at the Fujiyoshida campus of Showa University in Yamanashi prefecture by the Association of Pharmaceutical Students'- Japan (APS-Japan). Nihon Chouzai was one of the supporters of this event.
This symposium is held every year by all of the countries belonging to the Asia-Pacific section of the International Pharmaceutical Students Federation to facilitate interaction among students in many countries. APS-Japan was responsible for the 2018 symposium.
There were about 400 participants from Korea, Taiwan, Thailand, Malaysia, Indonesia and other Asian countries and about 100 students from Japan. Seminars, workshops, research presentations using posters and many other activities took place during the seven-day symposium.
A Nihon Chouzai pharmacist who has worked in the United States gave a presentation and Nihon Chouzai participated in selecting workshop themes and holding workshops to support the international interaction of pharmaceutical students.