Social Initiatives
In order to prevent the spread of COVID-19, conducting medication guidance by telephone and medicine deliveries from our pharmacies nationwide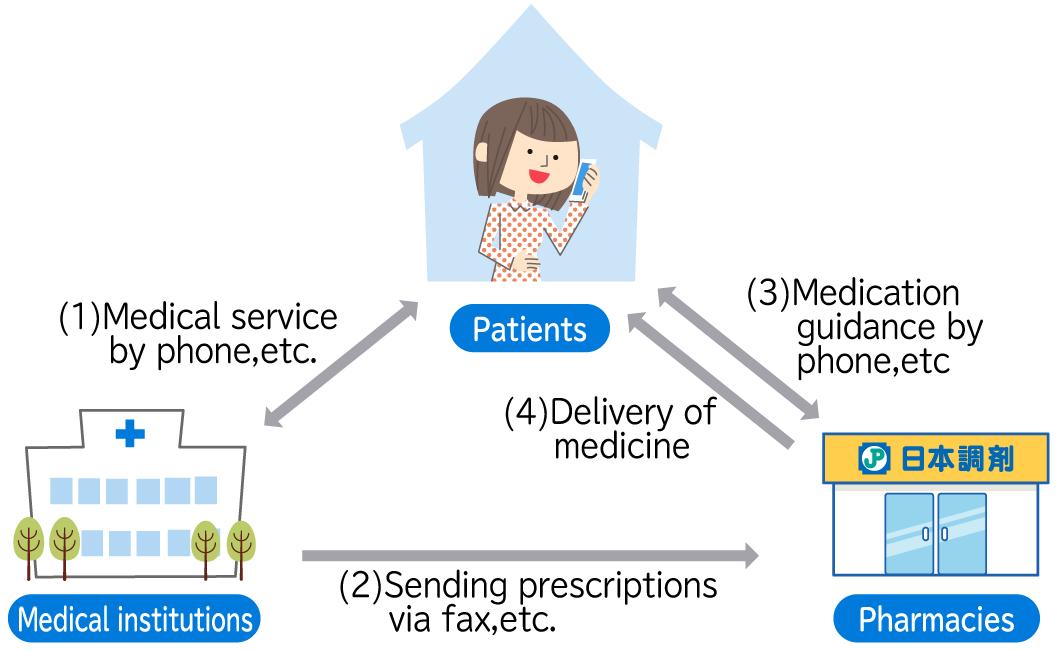 With the spread of COVID-19, it has become difficult for people to receive medical treatment at medical institutions. Based on a notice issued by the Ministry of Health, Labour and Welfare on April 10, 2020, measures have been taken on an exceptional, limited time basis to enable delivery of medicine, as well as medication guidance using information communication devices such as by telephones and video calls at pharmacies.
At NIHON CHOUZAI, we have started accepting prescriptions via fax, medication guidance by telephone, and home delivery of medicine. We have built a system to share prescriptions with medical institutions via fax by using "curon," an online medical service from MICIN, INC.
In addition, from September 2020, all pharmacies will be able to provide medication guidance via video call, and we are responding by introducing Medley Inc.'s Pharms, a dispensing counter support system.
Furthermore, in collaboration with delivery locker operator Fulltime System Co., Ltd., Nihon Chouzai in November 2020 launched trials of a prescription delivery service that does not involve person-to-person contact. In July 2021, in collaboration with leading convenience store chain operator FamilyMart Co., Ltd., we also started trials of a prescription delivery service utilizing pick-up boxes equipped with an authentication function that are installed at FamilyMart convenience stores in Kanagawa Prefecture.
By making use of non-face-to-face delivery formats, patients can receive prescriptions safely, without interpersonal contact and at any time, even outside pharmacy business hours. This is expected not only to reduce the risk of COVID-19 infection but also heighten convenience.
Case studies of using our electronic medication notebook, Okusuri Techo Plus, were posted on a government website that introduces measures to prevent the spread of COVID-19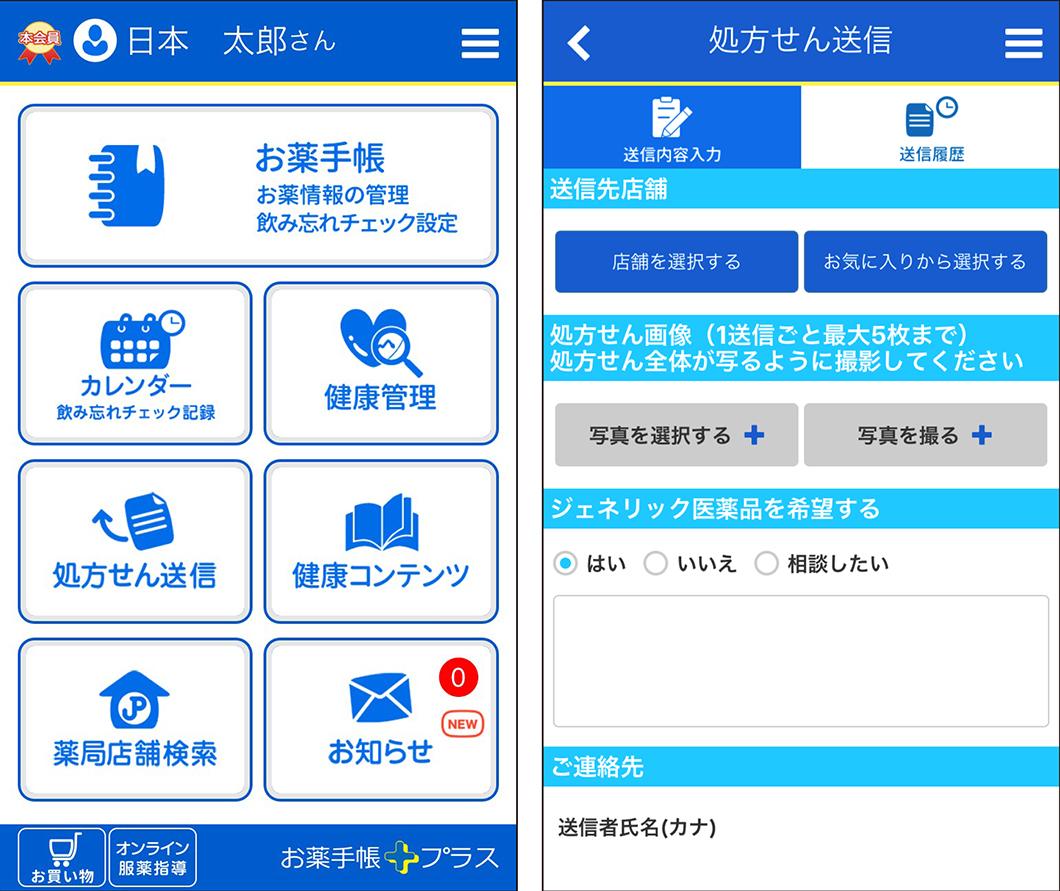 Several initiatives by NIHON CHOUZAI, including rapid delivery of medicine using our electronic medication notebook Okusuri Techo Plus, were posted as good examples at pharmacies on a website introducing example efforts to prevent the spread of COVID-19 (https://distribute-dei-taisaku.jp/). This website was established as a joint effort by the Ministry of Economy, Trade and Industry; the Ministry of Agriculture, Forestry and Fisheries; the Consumer Affairs Agency; and the Distribution Economics Institute of Japan. In order to minimize the time patients spend waiting at our pharmacies, we have worked to ensure that medicine can be given to them faster by having them send their prescriptions to the pharmacy in advance using the "send prescription function" of Okusuri Techo Plus. In addition, by implementing the following initiatives at our head office, branches and pharmacies, we have established a system that takes into consideration how to prevent infection of patients and how to prevent infection of employees working at our pharmacies.
Pharmacists Cooperate in COVID-19 Mass Vaccination Efforts
Based on requests from local governments, pharmacist associations, and other organizations nationwide, the Nihon Chouzai Group joined in helping to carry out the mass COVID-19 vaccination efforts that are underway across the country. As of June 8, 2021, a total of 604 Nihon Chouzai pharmacists had taken part in vaccination programs set up in 23 prefectures (including scheduled cooperation).
Company-wide initiatives to prevent the spread of COVID-19
We are taking various measures company-wide to prevent the spread of COVID-19. Our main initiatives are as follows. As a company that provides medical care, we are strengthening our initiatives to prevent anyone from getting infected within the company.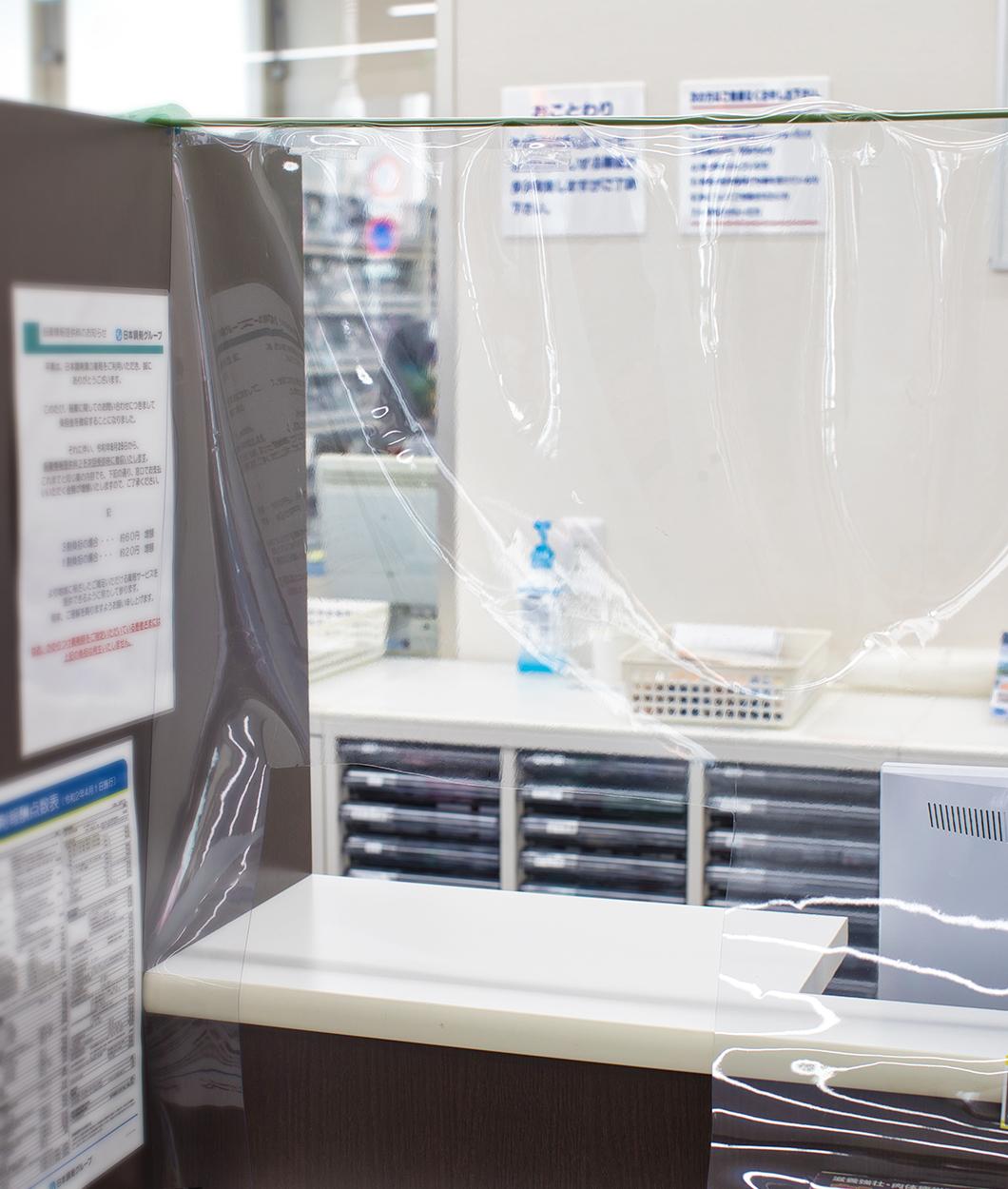 Major initiatives to prevent the spread of disease at our pharmacies
・Regularly disinfecting places in pharmacies where there is a lot of contact, such as push buttons for automatic doors, medication guidance counters, seats, etc., and placing seats to facilitate social distancing
・Using a system in which all employees wear masks and register their daily temperature measurements and attendance status online, so their supervisor can check
・Installing acrylic and vinyl partitions at receptions and medication guidance counters to prevent droplets from scattering
Main initiatives to prevent the spread of disease in our administrative departments, including our headquarters and branches
・Changing work dates, implementing working from home and flex time, work systems distributed across multiple locations
・Cancelling internal meetings, transitioning to online meetings, cancelling welcome/farewell parties and social gatherings
・Having all employees wear masks, reporting daily temperature measurements and attendance
・Cancelling customer visits, cancelling business trips, introducing video conference systems, securing laptops
・Changing from group training to online training
Helping you get healthy every day! Health Check Station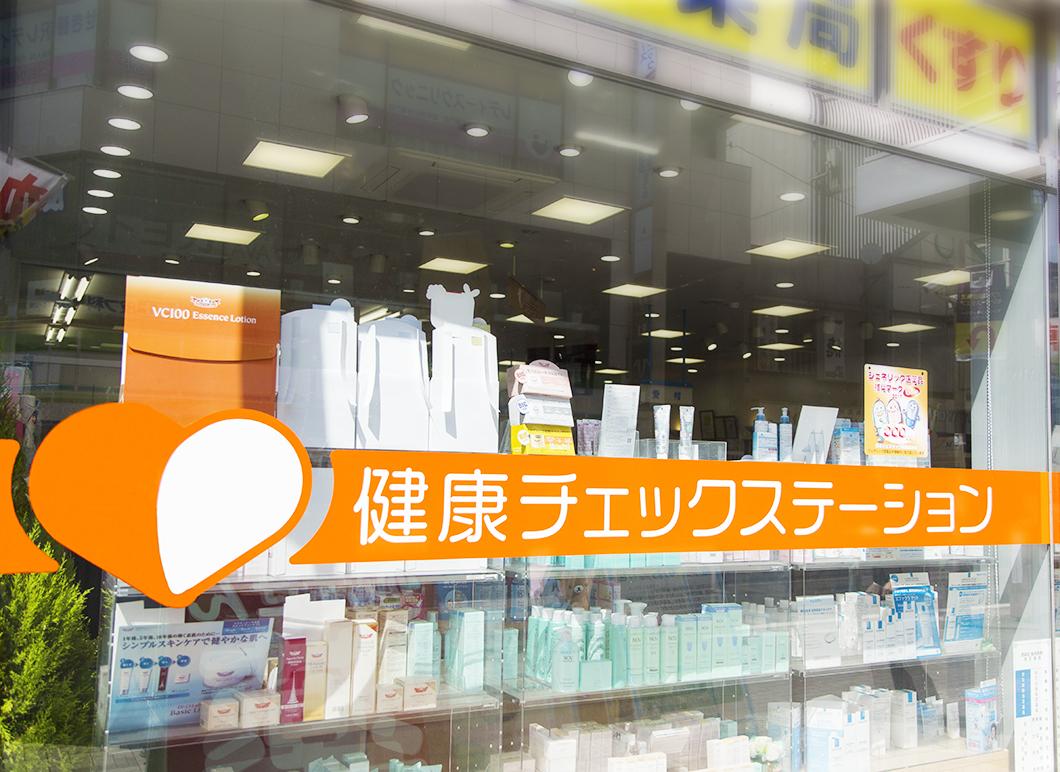 NIHON CHOUZAI began actively operating Health Check Stations in its pharmacies in fiscal 2016. As of the end of November 2021, the number of Stations nationwide has increased to 77.Health Check Stations provide various services for pre-symptomatic diseases and disease prevention for local residents. In addition to hosting a variety of health-related events and consultation services on drugs, national registered dieticians provide nutrition-related consultation and other services at our main pharmacies to support the improved health and lives of local residents.
Certified Nutrition Care Stations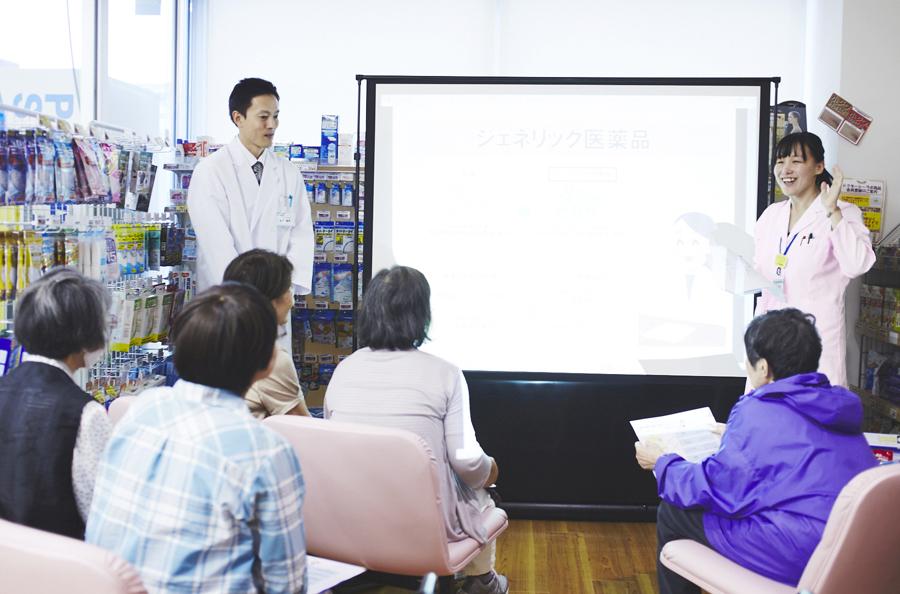 As of September 1, 2021, 25 Nihon Chouzai pharmacies have been designated Certified Nutrition Care Stations.
Certified Nutrition Care Stations are facilities certified by the Japan Dietetic Association as community-based hubs where registered dieticians and nutritionists provide nutrition-related care. By providing nutritional care support and guidance, registered dietitians and nutritionists aim to create local communities where residents can lead productive, fulfilling, and healthy lives. Certified Nutrition Care Stations take a multifaceted approach to supporting community health promotion. In collaboration with medical institutions, Station staff visit residences to offer nutrition consultation for people undergoing medical diets or who have difficulty going to the hospital. They also run cooking classes and devise menus for local governments, health insurance associations, companies, and healthcare institutions, and provide specific health guidance and a range of other nutrition-related services. Further reinforcing collaboration with medical institutions and long-term care facilities, the Group will heighten its focus on health promotion for community residents as well as long-term care and preventive healthcare.
Challenge your dream job as a pharmacist! Children's Pharmacist Experience
Every year, we hold the very popular "Children's Pharmacist Experience". This event continues to be an activity to convey the importance of taking medication safely and how pharmacists contribute to maintaining the health of local residents through easy-to-understand "pharmacist experience" activities.
Conference Presentations: 36 presentations delivered at academic conferences delivered at 24 academic conferences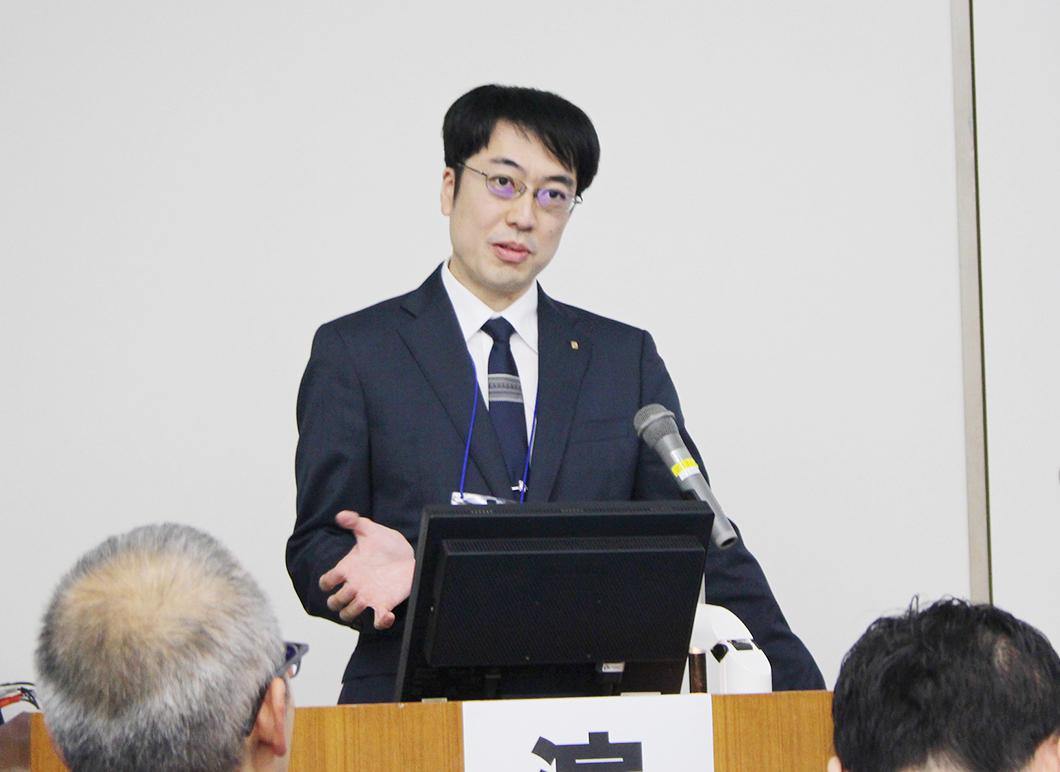 In fiscal 2019, NIHON CHOUZAI made 36 presentations at 24 academic conferences. Due to the spread of COVID-19, we have not been able to appear at academic conferences from February 2020 onwards because some have been canceled or postponed, so these results cover the period from April 2019 to January 2020. At the JTTA Annual Academic Conference held in October 2019, we made a presentation about "Remote medication guidance in the National Strategic Special Zone using electronic medication notebooks."